Though it's possible to become an entry-level Junior Data Scientist with a bachelor's degree, or to learn data science skills through "DIY" free courses and trainings, according to a 2021 survey, as many as 87 percent of Data Science and Analytics professionals have either a master's or PhD degree. And using job postings analytics, Indeed.com recently found that 60% of Data Scientist job postings required at least a master's or doctoral Degree, compared to 38% requiring a bachelor's or undergraduate degree.
There are many benefits that make pursuing a Master of Data Science degree worth it, beyond simply getting the edge during the job application and interview process. A master's degree from an accredited, reputable and trusted university is coveted by employers undergoing data-driven digital transformation and can be a life-changing, fulfilling experience for many students.
Here are four situations where it may be worth pursuing a graduate data science program:
1. Data is Transforming Your Industry and Profession
2. You Want to Change or Transition Careers
3. You Want to Increase Your Salary
4. You Love Gaining More Knowledge
Situation 1: Data is Transforming Your Industry and Profession
Maybe you're thinking, How can I stay several steps ahead in my profession?
While data-enabled digital transformation will eventually force every industry and organization to evolve (or revolutionize) their business models, processes, capabilities, and skills, some sectors and companies are further along than others. Depending on the level of data and tech maturity in your workplace or within your current occupation, you may already be considering how to upskill and reskill in data science, machine learning/AI, or business analytics to remain relevant, in which case, a master's degree in data science would be worthwhile.
Let's consider 3 "before and after" examples to illustrate this digital and data transformation:
From GIS to Geospatial Data Science. GIS, which stands for geographic information systems, are computer systems that Geoscientists, Engineers and Architects use to collect, manage, and visualize (or map) spatial data. Traditionally, a GIS enables data analysis across everything from natural disaster management and urban planning, to soil and seismic analysis and drilling optimization. In the era of big data, a GIS and its data can be integrated into a machine learning model, effectively acting as code (or one input) within a broader data science program. Data scientists and Machine Learning engineers who can architect these scalable, repeatable data processes will be highly coveted in the emerging workforce.


Big Data = Better Access to Clean Water. Historically, a Water Quality Specialist or Environmental Technician was often responsible for manually taking water samples in the field, testing the water according to standards and processes set by regulators like the Environmental Protection Agency, reviewing statistical data, and monitoring programs on an ongoing basis. Now, with the advent of low-cost and low-tech sensors, teams of Engineers can easily deploy distributed solutions controlled by sophisticated, cloud-based computer systems to measure if water is clean or contaminated, with little to no manual intervention by human technicians. Because the technology is remote, it doesn't strain local energy resources, nor does it require large IT teams. The resulting "big data" requires new data science skills to capture, clean, model, structure, analyze and visualize vast amounts of collected data, allowing highly informed and effective decisions about how and where limited resources should be spent to improve sanitation and safety for humans, animals and the environment.


The Promise of Personalized, Holistic Healthcare. When a person gets a disease, is treated, and ultimately cured, we consider the illness "resolved" and quickly return to the daily demands of modern life. Oftentimes, this is a limited and reductive view of an individual's overall health, with many of the essential factors of a patient's life (like work stress and over-the-counter medicines) invisible to those medical professionals administering care. As a patient goes about her life every day, with the proper privacy disclosures, data could be harnessed to provide better, more personalized treatments, technologies and approaches for everyone.
Keep in mind, data science will complement your existing domain of expertise--not replace it. The skills of data science, like Python programming, will expand and sharpen the "tools in your toolbox," and the applications are vast. If you're considering a master's in Data Science, look for accredited, reputable university programs with employer relationships and opportunities for real-world industry projects specific to your intended application, like Energy, Engineering, or Medicine.
Situation 2: You Want to Change or Transition Careers
Data scientists usually fall into two camps – those who know math really well but don't code efficiently, and those who are great coders but don't have a solid foundation in statistics. I can speak to both sides, so I am right in the middle – exactly where I wanted to be.
- David Sullivan, MCS Alumni, Data Scientist at New Knowledge. Read more about David's data scientist career.
Demand for Data Scientists is expected to grow by as much as 15% or more over the next 10 years—much faster than the average job growth of 4% across other industries. That means pursuing a Master of Data Science degree, particularly a program that features experiential learning on real-world data science projects, is one of the best ways to switch careers into a high-demand, growing occupation.
In terms of which occupations people are switching from, at Rice, we see many Computer Science majors who pursue Data Science master's degrees, but Statistics, Math, Engineering, Economics, Journalism, Sports and Analysis-related majors (for example, Public Policy analysis) are also very common.
Leveraging job postings analytics, Indeed.com found that 60% of Data Scientist job postings required a Master's or Doctoral Degree, compared to 38% requiring a Bachelor's or undergraduate degree. This is partially because of the advanced math, statistics and computer science skills required, particularly among Senior or Lead Data Scientists.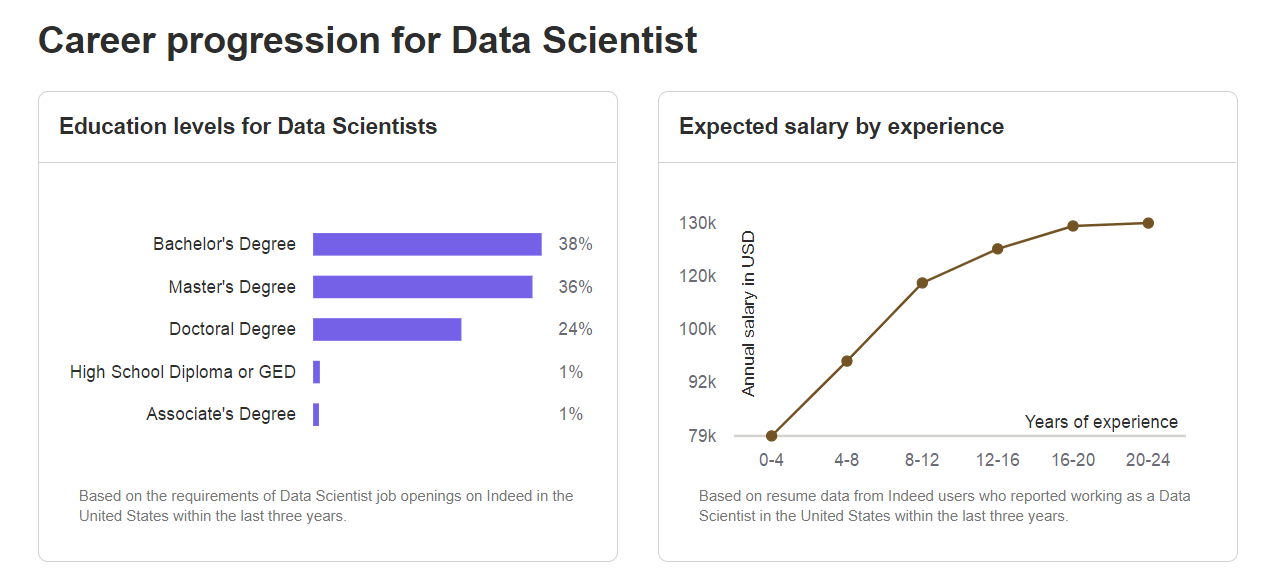 How can you tell if a degree in data science would be worth it for you? Think about the things you most enjoy doing at work, as well as your personal values. If you like finding answers, seeking truth, conducting analysis, and using data to make or recommend better business, governmental or societal decisions, this path and occupation may be right for you. If you already have the following knowledge and technical skills, you could be a candidate for the online MDS@Rice program:
Strong math and statistics skills, specifically: High-school level algebra and trigonometry, College-level calculus, basic discrete math skills, and boolean logic
Ability to write basic programs in a coding language like Python, R or SQL
Enrolling in a robust, online program like the MDS@Rice will not only give you exposure to many areas of data science--from machine learning models to secure databases. It will also enable you to pursue a degree part-time on a flexible schedule, while continuing to work if you choose. You'll be able to learn at your own pace, attend live sessions to engage with faculty and peers, and network with leading employers to find a new role that interests and excites you.
Situation 3: You Want to Increase Your Salary
As explained above, it's possible to become a Data Scientist with a bachelor's degree, but those who enter the field with only an undergraduate background might earn an average salary of about $64,000 per year, depending on the industry and city. With a Master of Data Science degree and more real-world data science experience, that annual salary can increase to about $130,000. Because of high demand and low supply, it's also common for employers to offer $10,000 more to applicants with a Master of Data Science degree, even if they're applying to entry-level positions.
That said, people with different data science job titles have different salary ranges, depending on their level of experience and educational background. Salaries can range from $52,000 to more than $125,000 depending on title, industry and geographic location. Pursuing a Master of Data Science degree will make it easier to secure positions with both higher starting salaries and larger earning potential over time.
Earnings by Data Science Job Title
The table below shows how much you can expect to earn in general data science positions with a master's degree:
JOB TITLE
JOB DESCRIPTION
MEDIAN SALARY*
JOB OUTLOOK*
Data Scientist
Data scientists collect, interpret and explain data for use in the real world.
$98,860
Demand is expected to increase as much as 22% between 2020-2030.
Data Architect
Data architects create systems to store, manage and protect data.
$98,860
Demand is expected to increase as much as 8% between 2020-2030.
Data Engineer
Data engineers create the programs needed to collect data.
$92,503
Demand is expected to increase as much as 8% between 2020-2030.
Data Programmer
Data programmers use their knowledge of coding languages to write data collection programs and algorithms.
$89,190
Demand is expected to decrease as much as 10% between 2020-2030.
Chief Data Officer
CDOs control a company's data-mining efforts and oversee the data analysis company-wide.
$178,240
Demand is expected to increase as much as 8% between 2020-2030.
Lead Data Scientist
Lead data scientists oversee the collection and analysis of data and identify ways to improve business' processes.
$138,007
Demand is expected to increase as much as 22% between 2020-2030.
*Source: U.S. Bureau of Labor Statistics
Situation 4: You Love Gaining More Knowledge
Many of Rice's students are passionate about the pursuit of knowledge, constant learners at heart. For many, completing graduate school is still seen as a major life event and personal goal alongside graduating from college, buying a house and having a family.
Those who value gaining knowledge care deeply about how they learn. We find that many students are less interested in MooCs (massive open online courses) where they may be "faceless" among hundreds or thousands of students and, instead, look for a more immersive and interactive experience. They also seek out small, intimate cohorts of likeminded, curious, continuous learners.
Some students benefit greatly from the structure, networking and motivation of a formal master's program, including the social interaction with their student peers, 1:1 interaction with world-class Faculty who are working on groundbreaking research, and introductions to industry partners looking to hire data scientists.
As is true of many reputable universities, Rice's world-class faculty care about their students, developing close 1:1 relationships and transforming lives through knowledge, discussion and debate. While the coursework is challenging, when students emerge with their master's degrees, they feel an enormous sense of pride and confidence in their command of the material. Our students also feel part of a close-knit community of alumni, drawing on these relationships for decades after graduating.
What is the Value of the Rice Online Master of Data Science Program?
Pursuing any higher education degree requires an investment of both time and money, and that is understandably a top consideration for many students. However, for students who will garner higher salaries upon graduation and pay back their tuition within a few years, there's no better return on investment than feeling emotionally prepared for fast-evolving workplace demands. While a less academically-challenging program may be easier on your schedule while completing the program, consider the long-term ramifications of feeling underprepared for the world of data science, machine learning and AI, and broad digital disruption.
The MDS@Rice program allows you to pursue an advanced degree on your own time while still giving you access to industry experts, supportive faculty members, and a robust curriculum that will prepare you for real-world situations. With a best-in-class online learning platform and ability to specialize in machine learning or business analytics, you'll get the same quality education you'd receive in person without having to stick to a strict schedule that interferes with work and other obligations.
To graduate, students complete a capstone project where they will encounter real-world data science problems and create solutions that solve actual pain points for businesses, government and non-profits. This project strengthens your resume and can help your application and qualifications stand out for future jobs. Previous capstone projects have included using machine learning and deep learning models to support an enterprise in the oil and gas industry; leveraging sentiment analysis to improve customer acquisition in marketing; and user experience for a cloud-based software provider, and developing a unique algorithm to improve outcomes for a children's hospital.
The capstone verifies your skills and gives employers something concrete to base their decisions on, increasing the amount of trust future employers are willing to put in your abilities from day one. You'll increase the likelihood of landing a job in a field and with a company you'll enjoy working with for years to come.
Learn More About Our Master of Data Science Curriculum
The Master of Data Science at Rice University is a great way to enhance your skills and set yourself up for a successful and in-demand career. Learn more about our curriculum to see if the program is a great fit for your goals and apply online today.