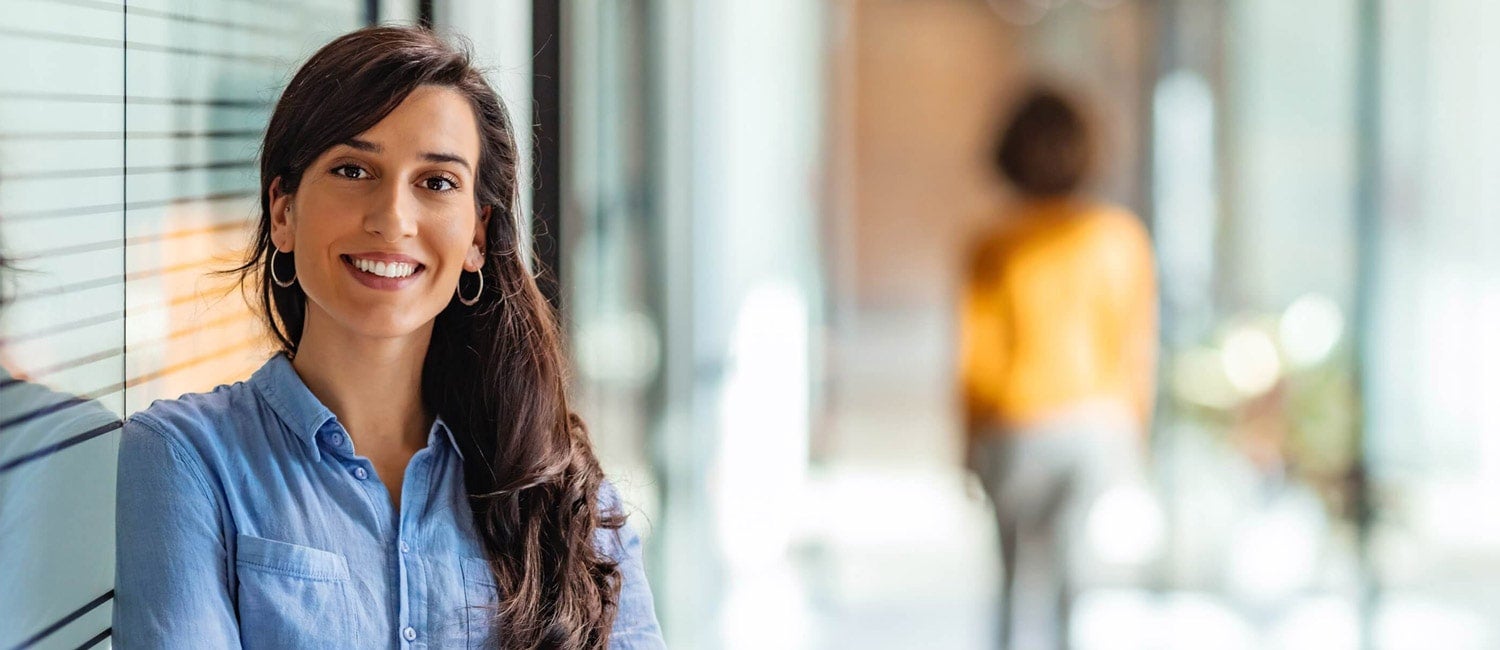 Applications Open for Fall 2022
Applications for the online master's degree in computer science are being accepted for the Fall 2022 cohort. All required application materials must be submitted online by July 1, 2022 (Fall). To learn more about applying to our online Master of Computer Science program, please visit our Admissions page.
Body
A Holistic Master of Computer Science Curriculum
10 set courses carefully selected to develop a well-rounded CS skillset so you can solve bigger challenges
Designed for working professionals with engineering or related background
Hands-on experience for real-world application and career advancement in the tech world
Flexible self-paced lectures and weekly live sessions with professors to develop graduate-level skills and thinking
Body
Our Computer Science Alumni have gone on to lucrative careers across a wide variety of fields. For example, past graduates of our MCS program have gone on to careers at Amazon, Facebook, Google, Halliburton, JP Morgan Chase, Microsoft, Schlumberger, Two Sigma, Uber, and many other leading companies.
-Scott Rixner, Faculty Director
Body
STUDENT SUCCESSES AND FACULTY RECOGNITION
MCS Community Spotlight
Body
EXPECT WHAT YOU WOULD FROM AN ON-CAMPUS PROGRAM
Student Experience
At Rice, we strive to deliver a personalized student experience that is collaborative and engaging. Student/faculty interaction is paramount. With the online learning experience, those interactions with professors and peers are no longer dependent on being on campus. The combination of self-paced lectures and weekly live sessions to engage with professors helps to keep students engaged while completing coursework on their own time. You no longer have to put your career on hold to build your computer science skillset.
Body
Top Computer Information Systems Schools in Texas
Source: US News & World Report (2022), College Factual (2022)
Information Sessions
Tuesday, June 14, 2022: 12-1PM (CST)

Tuesday, June 14, 2022: 12-1PM (CST)

Can't make it?

Get in touch with an Enrollment Coach to learn more about the Online MCS program and to get your questions answered.
Body
WORLD-CLASS EDUCATORS
Faculty with Real-World Computer Science Experience
The faculty lead for our Master of Computer Science Online Program is Professor Scott Rixner, who has significant experience in creating coursework for online learning environments. He's leveraging the expertise Rice has gained in teaching over a million online students to create this one-of-a-kind program.
Body
CONSIDER AN ONLINE MASTER OF DATA SCIENCE
Did you know we also offer a world-class Master of Data Science program that's fully online? Learn more about the online Data Science program and how to apply for the upcoming Fall 2022 cohort.
MCS@RICE FAQs
Is the degree the same as the Master of Computer Science program offered on campus at Rice University?

The program is grounded in the same curriculum offered on-campus at Rice University. However, the program has been built from the ground up to utilize best-in-class online teaching methodology.

The mode of delivery for coursework is not included on student transcripts so there is no designation that courses were taken online. The same is true for the diploma earned, which does not reference this being an online program.

Is the online program designed for students to work at their own pace?

Yes, but with some structure. Course lecture material and content, assignments, and other types of assessments are available for students to work through on their own schedules. But there are due dates for all graded work. There is also a content release schedule for each course so that all students move through the course experience together.

We consider the interaction between faculty and students and interactions among students to be crucial components to learning, and to student success. There will be many opportunities for students to engage with faculty and with each other throughout the course.

What prerequisites do I need to start the MCS@Rice program?

The ideal candidate will have a Bachelor's degree in a science or engineering field (not necessarily computer science) and programming experience. While all candidates must have a Bachelor's degree, it is not a strict requirement that it be in science or engineering. The Admissions Committee will review all applications individually and holistically, taking into account every element of the application, including an applicant's academic and professional background, letters of recommendation, GRE scores (if submitted), and statement of purpose.

The GRE test is optional, but recommended. If an applicant has relevant industry experience, the Admissions Committee will factor in work experience and the recommendation of your current supervisor in lieu of any missing GRE scores when evaluating the application. Applicants who do not have GRE scores are expected to have 3+ years of full-time work experience in a scientific/technical field. Furthermore, at least one of the recommendation letters must be from a supervisor and should speak to your technical and communication promise/ability and any relevant industrial experience should be highlighted in your resume. Have your scores sent directly to Rice University using code: 6609 (GRE subject tests are not required).

Read more about the MCS@Rice (Online) prerequisites and other Admissions requirements.

How long does it take to get a Master of Computer Science degree at Rice?

The degree can be completed in as quickly as 12-18 months (depending on your level of programming experience and other prerequisites upon admission), or as long as 3.5 years (10 semesters)

What background do you need to be successful in the MCS@Rice program?

The ideal candidate will have a Bachelor's degree in science or engineering (not necessarily computer science). Computer Science requires abstract thinking skills that come from mathematical sophistication and the ability to write programs in a conventional programming language. In order to succeed in any computer science program, you will need to have the ability to pick up both of these concepts.

What is the cost of the MCS@Rice Program?

For the 2021-22 academic year, tuition is $1,666.67 per credit for the MCS@Rice program. Tuition is charged per credit, and MCS@Rice is a 30-credit program. Please note that fees are subject to change and may rise each year.

Are scholarships or financial aid available?

Because the Master of Computer Science (MCS) is a non-thesis (non-research) degree, Rice University does not currently offer tuition waivers, stipends, fellowships, or assistantships for this program. Students are also encouraged to visit the Rice Office of Student Financial Services for more information about loans and outside sources of aid.