Body
MORE THAN DISCUSSION BOARDS
The Support and Flexibility You
Need to Earn Your Online Master's in Computer Science
You're busy with work, family commitments, and living your life. That's why Rice University created the Online Master of Computer Science program: to provide a rich, high-quality graduate education, 100% online and self-paced for busy working professionals.
Image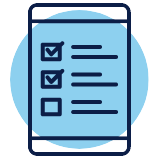 EARN YOUR MCS DEGREE PART-TIME, WHILE WORKING FULL-TIME
Complete all courses 100% online with no in-person requirements. Up to 9 credits can be taken on Rice's campus for students desiring a hybrid MCS experience.
Image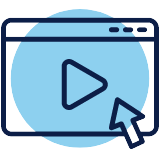 SELF-PACED, HIGH-QUALITY VIDEO LECTURES
Rice faculty spend months ideating and developing effective courses for you, using rich multimedia, technology, and creativity to create a stimulating learning experience. Watch the course content on your own time, at your pace.
Image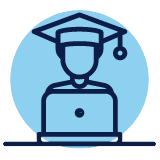 A HUMAN APPROACH TO ONLINE LEARNING
Rice University will surround you with opportunities to connect face-to-face, including weekly live sessions with world-class Rice faculty, pairing you with a Student Success Advisor, and assigning collaborative, team-based projects.
Image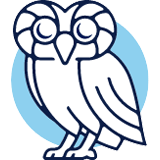 ACTIVE RICE MCS STUDENT COMMUNITIES AND EVENTS
You will be part of Rice University's network of Rice MCS students and CS faculty, with invitations to online communities like communities like Canvas, Slack, Microsoft Teams, virtual events & webinars, career fairs, and more. Take advantage of Rice MCS's reputation among employers and alumni as you advance your career.
The same degree, in person or online.
Your degree will say "Rice University Master of Computer Science" with no mention of "online" on your diploma. Upon graduation, you will be part of Rice's MCS community and alumni network.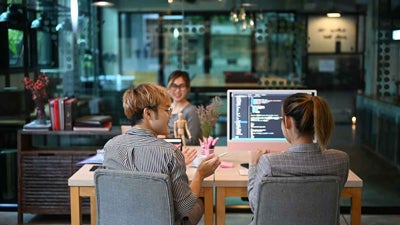 I wanted an MCS online program that had some very good interaction: being able to ask questions, attend TA hours, talk with the other students. That was a big piece of why I chose Rice MCS and what I really enjoy about the program.
LAURA SWAFFORD, RICE MCS ONLINE, CURRENT STUDENT
How We're Different: The Uniquely-Human Approach to a Part Time Master's in Computer Science Online
While your graduate degree can be earned 100% online from anywhere, Rice University believes in offering ample opportunities to deepen learning through engagement with your instructors and peers.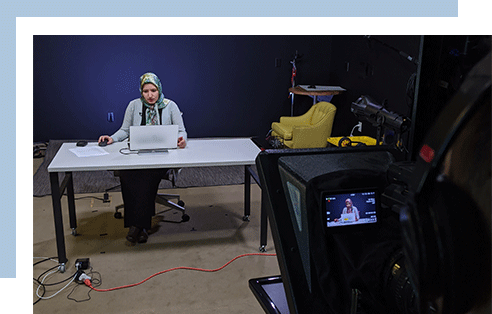 Online Courses Made with Care
At the core of every online course is a library of video lectures, created with care and attention by your Rice instructor. Watch the lectures when it's convenient for you and go back anytime to reinforce important concepts.
Courses also include supplementary readings, labs, assignments, and discussion forums to provide multiple ways of engaging with faculty and peers.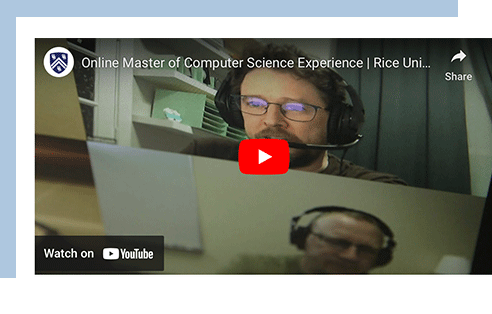 Small Class Sizes with 1:1 Interaction
Unlike in other master's programs that enroll hundreds of students, most Rice MCS Online class sizes are smaller than 20 students. After watching the online course videos on your own time, connect 1:1 with your Rice instructor at office hours or in a scheduled appointment.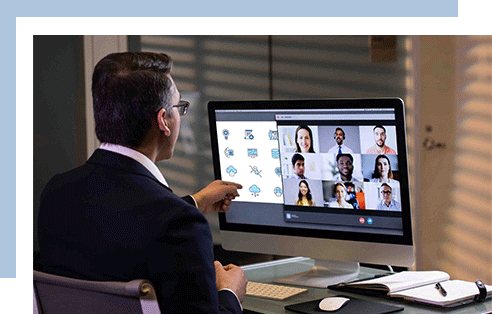 Weekly Live Sessions: 6 p.m. or 8 p.m. CST
Live weekly classroom sessions are a defining feature of Rice's online master degree programs. These sessions provide valuable direct interaction with Rice faculty and peers, and many students say it's one of their favorite aspects of the program.
Faculty are hands-on and interactive in classes and projects, holding weekly live classes that are typically scheduled to start around 6 or 8 p.m. central time.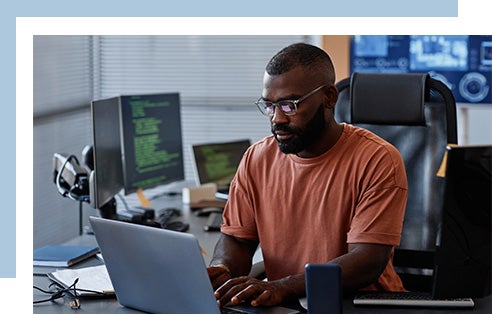 Hands-On Projects, Community & Career Events
Throughout the program, graduate students will participate in hands-on, team projects like Cyber competitions, software builds, and more.
Past events have included:
Demystifying the Tech Interview Process, presented by a Rice MCS Online student with 20+ years work experience as an engineering manager
Working for the Big 5: Interview Tips & Culture
Hackathons and Datathons
Rice MCS Online Program: Homecoming Event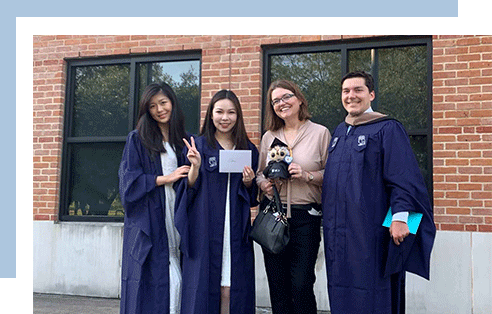 A Student Success Advisor to Help You
Our Student Success Advisor will get to know you and your needs. We'll work closely with you to develop a course schedule and connect you with Rice student services, including tutoring, mentoring, homework resources, and career services. Your Advisor will also keep you informed about program updates, share useful tips, and plan community events.
How Technology and User Experience Enables Your Learning
A great student experience also means ease of accessing your course content–and your community of instructors and students. Rice University supports our online master's students in multiple ways.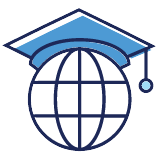 LEARN ANYWHERE: CANVAS FOR MOBILE AND DESKTOP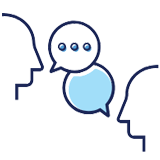 ONLINE STUDENT COMMUNITIES & DISCUSSION BOARDS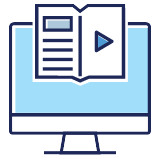 DEDICATED TECH SUPPORT FOR RICE MCS ONLINE STUDENTS
Body
Proud to Be Among the Best: Our Rankings
BEST COMPUTER & INFORMATION SCIENCES MASTER'S DEGREE SCHOOL IN TEXAS
BEST ONLINE MASTER'S IN COMPUTER SCIENCE DEGREES
BEST ONLINE MASTER'S IN COMPUTER SCIENCE DEGREES
TOP UNIVERSITY FOR TECHNICAL SKILLS
BEST COMPUTER INFORMATION SYSTEMS MASTER'S DEGREE SCHOOL
BEST ONLINE MASTER'S IN COMPUTER SCIENCE PROGRAMS
Online MCS Important Dates
All applications can be saved and continued later.
| SESSION | APPLICATION DEADLINE | CLASSES START |
| --- | --- | --- |
| SUMMER 2024 | March 1, 2024 | April 29, 2024 |
| FALL 2024 | July 1, 2024 | August 26, 2024 |
| SPRING 2025 | November 1, 2024 | January 13, 2025 |
Body
Get More Information
Sign up to receive more information on how the MCS@Rice program can help you broaden your career options. Connect with an Enrollment Coach today.
Loading...