Rice University alumna Kimberly Villegas '23 was a senior at the University of St. Thomas when a professor suggested she apply for a new Google-funded summer research internship program hosted at Rice. The Research Experience for Undergraduates, Data Science (REU DS) would introduce students to the field of data science through active participation in a research project. At the end of her 10-week program, Villegas was invited to a one-on-one meeting with Rice's Dean of Graduate and Postdoctoral Studies.
"Dr. Seiichi Matsuda asked me what I liked about data science, where I saw myself in the future, and if I was interested in pursuing data science as a career," said Villegas. "Talking with him further solidified the idea that had been forming all summer: I wanted to stay in the data science sector."
Choosing an online MDS program
Villegas wrapped up her B.S. in computer science at St. Thomas and joined the next cohort of Rice's Master of Data Science students, choosing the online program for its flexibility and cost. She had already experienced Rice's small community environment that summer, and felt comfortable progressing through an online program to become one of the earliest Rice MDS alumni.
Having completed some of her computer science courses remotely during the pandemic, she was confident of her ability to learn and remain motivated in that setting. Her REU summer demonstrated the close relationships Rice faculty foster with their students, in both in-person meetings and through video and chat conversations. Finally, the value of a data science graduate degree combining Rice's prestige with frequent 1:1 conversations with her professors was enhanced by the lower cost of the online program compared to the on-campus option.
"Selecting Rice University for my Master's degree is an investment in quality, expertise, and distinction. The university's renowned reputation and commitment to academic rigor ensure that my educational journey is not only enriching but also sets me on a trajectory of professional achievement." she said.
Although students in professional master's degree programs frequently fund their graduate studies with some contribution from federal loans, there are other funding options available through external sources. For example, graduate programs sometimes offer merit-based scholarships or scholarships funded by alumni donors or the university. A scholarship website sponsored by the U.S. Department of Labor can be filtered for students considering graduate degrees and using 'data science' as a search term. Additional options include programs like the GI Bill and opportunities for employees to receive training that benefits their company, such as the Chevron Digital Scholars program and other employer tuition assistance programs.
Balancing data science and domain knowledge
"Before that Google summer research internship opportunity, I viewed data science as a combination of coding and statistics. It seemed to be mostly about crunching numbers and drawing insights," said Villegas.
"During my internship, I realized it was more about storytelling, asking the right questions, and influencing decisions based on data. The complexity and depth of real-world problems like those we worked on in the MDS online program added more layers to my understanding. Now I see data science not just as a tool but as a discipline that intersects with industries from healthcare to finance and has the potential to drive significant societal change."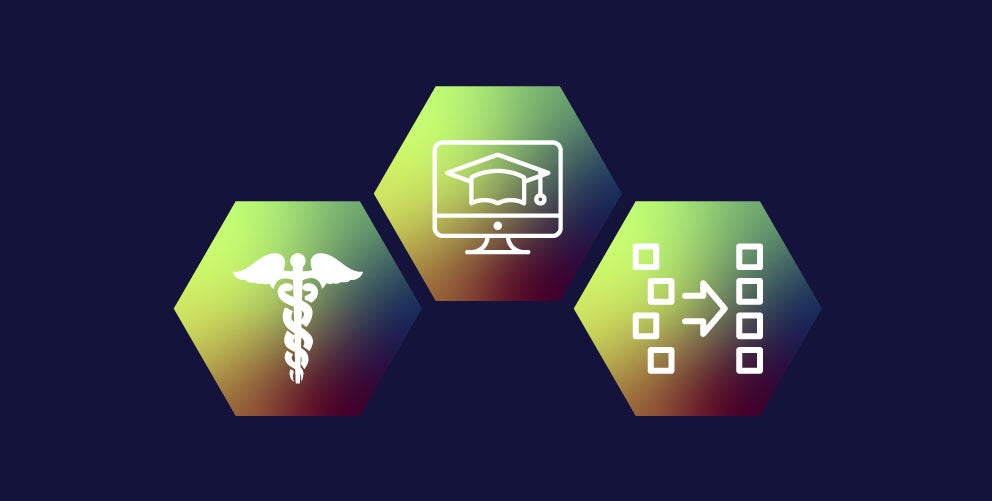 Healthcare and data science is the intersection that most intrigues Villegas. She worked for six years as a radiologic technologist and recognized her upward mobility would be limited to supervisory roles without additional education. Now, she plans to leverage her data science training with her healthcare domain knowledge.
Her advice to aspiring data scientists is to look beyond the programming and statistics lessons. She said, "Don't just focus on the technical tools, capitalize on what you already know about an industry. A good data scientist is not just proficient in Python or R; they also understand the sector they are working in or where they want to work."
One domain she never expected to explore is hospitality, but her team's final capstone project analyzed price predictions for Airbnb locations in Austin, Texas. The team presented their findings in the summer capstone showcase and then published their results in a research paper.
Cleaning broad data and asking good questions
"With the Airbnb project, I realized that cleaning and refining the data feels similar to solving a puzzle to me. There was so much noise in our broad data set that making sense of its patterns and anomalies was a bit of fun. You never really get a perfect data set; you usually have to dig in and try to find what is wrong with it, how we can fix it and tell a story about it. Only when we have reliable and consistent data can we finally find meaningful insights into it."
"Beyond data cleaning, I am also interested in feature engineering and optimization. I believe these aspects play a significant role in translating data into insights, which is what data science at its heart aims to achieve," said Villegas.
She believes asking good questions is critical in understanding what the stakeholder wants to accomplish and clarifying the actual problem to be solved. It is also important to ask questions in team meetings or in conversations with colleagues to narrow the approach or troubleshoot an issue.
Villegas said, "There is a lot of trial and error in learning how to ask the right questions. Sometimes you don't know what they are or should be. It's fine to ask your peers what they have done in the past. As a new data scientist, you are starting from scratch. The more projects you work through, the more your communication skills develop, the more your insights develop and you ask better and better questions."
Making the most of a data science program
Looking back on her time in the Rice MDS program, Villegas said the capstone project may have given her the most relevant work to talk about in job interviews, but her faculty mentors also greatly impacted her experience in the program.
Villegas said, "One instructor who significantly influenced my journey was Dr. Arko Barman. His impact on my experience extended beyond the classroom. In addition to organizing the capstone program, he was also the instructor for two of my Machine Learning courses, Deep Learning and Natural Language Processing.
"His courses not only expanded my technical skills but also deepened my interest in complex challenges within data science. As I often reflect, 'In the realm of data science, learning goes beyond the classroom – it's about embracing challenges and innovating solutions.'"
To make the most of their Rice MDS experience, she recommends prospective students keep an open mind and consider every interaction as an opportunity to improve their communication skills.
"Stay curious!" said Villegas. "Maintain a mindset of constant learning, and keep updating your skills. Finally, never underestimate the power of communication in this field. Continue learning how to better communicate with your team and your stakeholders."
Interested in learning more about Rice's Master of Data Science Online program? Visit the program website or fill out the form below to be connected 1:1 with a coach.
Data Science employment is projected to grow +35% between 2022-2032.
×