Todd Treangen, faculty member in the Department of Computer Science at Rice University, has been promoted to associate professor with tenure, effective July 1.
"I'm beyond thrilled to have the opportunity to continue the momentum from the past five years and have the opportunity to work alongside truly inspiring students, staff, and faculty at a wonderful institution with strong leadership and commitment to excellence," said Treangen. "I'm extremely fortunate to have been surrounded by such great colleagues and mentors over the years across numerous institutions."
Department Chair Chris Jermaine described Treangen as "an exceptional researcher, working on timely problems such as early detection of emerging biological pathogens. He's a wonderful, caring teacher who took over the management of one of our largest classes. He's going to be a star in the department for years to come."
Tenure is a major milestone in the career of any faculty member. When making the announcement, Rice Provost Amy Dittmar said, "This year's class of promoted and tenured faculty have worked hard to meet rigorous standards in teaching, research and service. Their commitment to excellence in all that they do has helped them establish national and international reputations in their respective fields."
Treangen joined the Department of Computer Science in 2018. Prior to that, he worked as a research scientist at the Center for Bioinformatics and Computational Biology (CBCB) at the University of Maryland in the lab of Mihai Pop, and as a principal investigator at the National Biodefense Analysis and Countermeasures Center (NBACC). He earned his doctorate in computer science in 2008 from the Polytechnic University of Catalonia (UPC) in Barcelona, Spain.
Treangen's research group, the Treangen Lab, is focused on the development of novel computational methods and software tools capable of tackling emerging computational research questions specific to biosecurity, infectious disease, and microbiome analysis.
Over the course of his career, he has received funding from the Centers for Disease Control (CDC), Defense Advanced Research Projects Agency (DARPA Prometheus), Department of Homeland Security (DHS), The Intelligence Advanced Research Projects Activity (IARPA FunGCAT), National Institutes of Health National Institute of Allergy and Infectious Diseases (NIH NIAID), National Science Foundation (NSF), among others. 
This spring, Treangen was awarded a 2023 NSF CAREER Award for development of a computational platform to spot yet-unseen pathogens. These prestigious awards are given annually in support of "early-career faculty who have the potential to serve as academic role models."
In 2021, the NSF awarded Treangen and team a five-year, $2.8 million grant for the study of microbial mats from Yellowstone National Park's Octopus Spring and the development of a novel computational approach to tracking environmental microbiome dynamics over time, across species and after perturbations. The initiative includes two Rice co-principal investigators, computer scientist Luay Nakhleh and electrical and computer engineer Santiago Segarra, as well as Devaki Bhaya, a molecular biologist at the Carnegie Institution for Science, Department of Plant Biology, located on the Stanford University campus. 
Other major initiatives in the Treangen lab have included their participation in a multi-institution program known as DYNAMITE that received an $11 million grant from the National Institute of Allergy and Infectious Diseases (NIAID). The five-year study is aimed at better understanding why some critically ill patients develop multidrug-resistant infections.
These are just some of Treangen's accomplishments in the last few years. Much of his lab's work involves significant cross collaboration with other departments at Rice University and beyond.
It's important to Treangen to acknowledge the role that all of his mentors and lab members have played in his success. He specifically notes major publications where his Ph.D. students were first authors. When speaking of his lab members, Treangen said, "I am incredibly grateful for them and their ongoing contributions to the success of Rice, as well as the Houston community and the world." 
In addition to the doctoral students, postdocs, and software developers who make up the lab, the Treangen Lab is also noteworthy in that it provides significant opportunities for undergraduate research as well, having worked with over thirty five undergraduate students in five years. 
When looking back over his career, Treangen said, "From a Ph.D. student in Barcelona until now, my journey span[ned] twenty years, three countries, five languages and eight institutions." This summer, he returned to Paris where he performed his first postdoctoral research in the lab of Eduardo Rocha at the Institut Pasteur from 2008 to 2010, but this time, with Rice Global Paris, for the CINEMA Metagenome Analysis Workshop he is co-directing with microbiome experts from around the world. 
Read more about the Treangen Lab's work on the lab's website.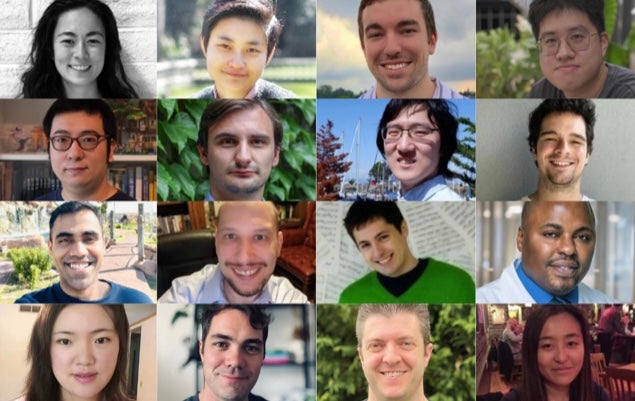 The following list includes Treangen Lab Ph.D. students, postdocs, and software developers with contributions to his group's research projects:
 
Treangen lab Ph.D. students, postdocs, and software developers (role while in group):
Dreycey Albin* (SSPB MS student)
Dr. Advait Balaji* (Computer Science Ph.D. student)
Matt Barnett* (Senior Research Programmer)
Kristen Curry (Computer Science Ph.D. student)
Dr. Leo Elworth* (NLM Biomedical Informatics Postdoctoral Fellow)
Dr. Bernard Fongang* (Postdoctoral Scientist)
Yilei Fu (Computer Science Ph.D. student)
Eddy Huang (Computer Science Ph.D. student)
Bryce Kille  (Software Developer, now NLM Biomedical Informatics Ph.D BMI)
Chunxiao Liao* (Computer Science MS student)
Yunxi Liu (Computer Science Ph.D. student)
Dr. Dan Nasko* (Postdoctoral scientist)
Dr. Mike Nute* (NLM Biomedical Informatics Postdoctoral Fellow) 
Nicolae Sapoval (Computer Science Ph.D. student)
Michael Wang (Bioengineering Ph.D. student)
Dr. Qi Wang*  (SSPB Ph.D. student)
*Treangen lab alumni