Body
RICE MCS IS READY TO HELP VETERANS SUCCEED
Scholarships Available to Veterans & Military Applying to the Online Master of Computer Science Program
Rice Engineering values the contributions of our veterans and works diligently to support the educational goals that make use of your GI Bill® and Yellow Ribbon education benefits.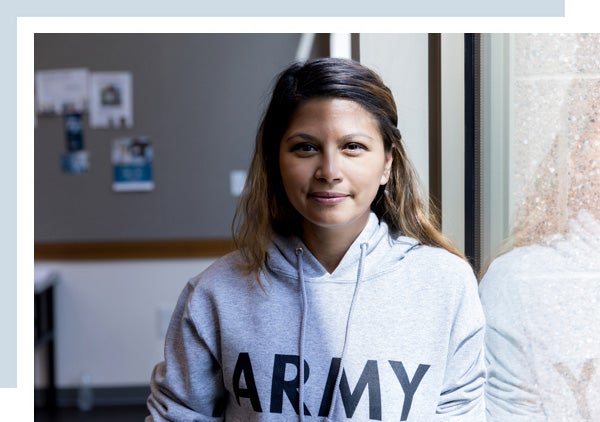 Scholarships & Aid for Veterans & Military: Yellow Ribbon Program
Rice's Online Master of Computer Science graduate program is proud to participate in the Yellow Ribbon program at the highest possible level. Once your Chapter 33 annual cap has been exhausted, Rice Engineering will cover half of the remaining cost with a Yellow Ribbon Scholarship, which will be matched dollar-for-dollar by the VA.

If you have additional questions about specific program benefits, Rice has a dedicated team member in the Office of the Registrar for Veterans to help you understand your financial aid options.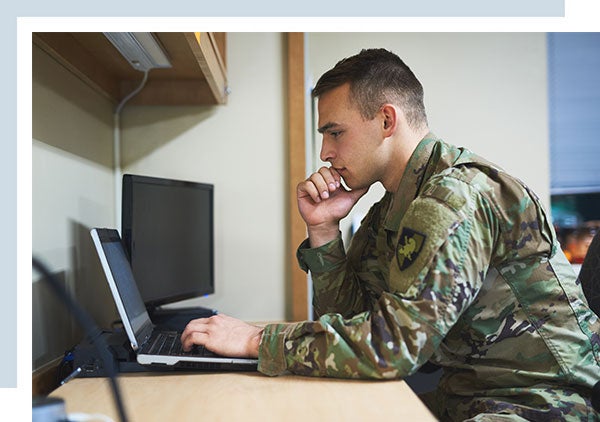 Pursue the Best, Without Sacrificing Flexibility & Convenience
The top-ranked Online MCS program is ideal for busy veterans and military professionals. Qualified students are able to pursue their Rice degree part-time while balancing military duties, work, family, and other priorities, building in-demand computer science, software dev, data engineering, cybersecurity, cloud computing, and other tech skills to help them change or advance their careers.
Why do veterans choose Rice?
Top 10-Ranked Online Master of Computer Science degree program, ranking #1 in Texas for Computer Information Systems
Service members can enroll in Rice's Online MCS and remain on active duty, with no need to relocate
A high degree of human engagement with faculty and peers, featuring small class sizes, 1:1 opportunities, and weekly live sessions
A dedicated Student Success advisor to help you manage your workload and coursework alongside other commitments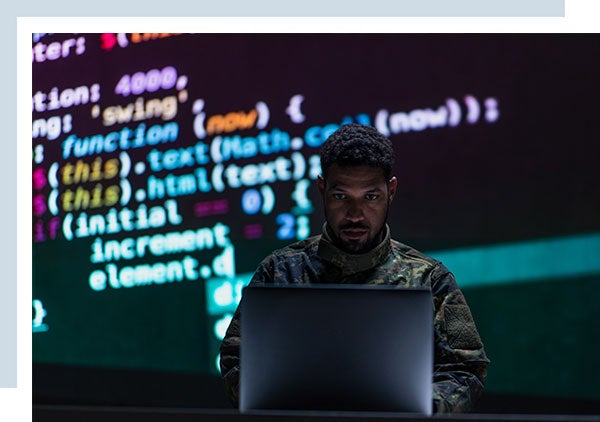 Relevant Curriculum for Veterans' Career Aspirations
According to G.I. Jobs, 5 of the most in-demand civilian jobs for Veterans in 2022 are computer science-related occupations, including Computer Information Systems Manager, Computer Systems Analyst, Cybersecurity Analyst, Software Applications/Systems Developer, Web Programmer, and more.

In Rice's online master of computer science program, you'll learn essential concepts and skills to secure a career in cybersecurity, software engineering, data protection, and more. Students will get real-world, hands-on experience by participating in National Cyber League competitions, Hackathons, and Datathons.
Eligibility Notes & More
Post 9/11 GI Bill Eligibility

You may be eligible for the Post-9/11 GI Bill if the following are true:

You have at least 90 days of aggregate service after September 10, 2001, and are still on active duty;

You are an honorably discharged veteran; or

You were discharged with a service-connected disability after 30 days of active-duty service.

The percentage of eligibility ranges from 40 percent to 100 percent. To determine your percentage of eligibility, visit the U.S. Department of Veterans Affairs website.

Yellow Ribbon Program Eligibility

To be eligible for the Yellow Ribbon Program, you must:

Be 100 percent eligible for the Post 9/11 GI Bill and

Not be on active duty or a spouse of an active-duty member

Additional Considerations

As you research the education benefits that may be available to you, it's important to keep the following in mind:

Funding cannot exceed the total cost of attendance.

To determine your eligibility and get started, visit the U.S. Department of Veterans Affairs website

To apply for benefits, you will need the following documentation: Certificate of (Honorable) Release or Discharge from Active Duty (DD-214), if discharged from active service; Certificate of Eligibility (COE); and your military transcript. To request your COE, you will need to complete the Education Benefits Application

Learn more about your Veteran Education Benefits.
Body
Online Master of Computer Science Information Sessions
MCS@Rice Info Session: Wed, June 7, 12:00 - 1:00 p.m. (CST)

Learn what career-advancing knowledge and skills you can expect to build within the MCS@RICE online program and what specialized tracks are available.

Have questions before the info session? Get in touch!
Important Dates
| SESSION | APPLICATION DUE | CLASSES START |
| --- | --- | --- |
| FALL 2023 | July 1, 2023 | August 21, 2023 |
| SPRING 2024 | November 1, 2023 | January 8, 2024 |
| SUMMER 2024 | March 1, 2024 | April 29, 2024 |
Body
Get More Information
Sign up to receive more information on how the MCS@Rice program can help you broaden your career options. Connect with an Enrollment Coach today.
Loading...